June 2023 - Construction Update
Construction on Confederation District Park renewal resumed on April 19th, 2023.
View the Final Design for the Renewal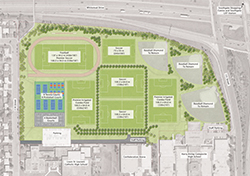 Project Schedule Update 
On Thursday, May 25, 2023, the City received notice of a major grade depression that appeared on the park site. We believe this is due to the collapse of a new underground storage system installed as part of the project. The underground storage system is located under the west end zone of the combination football and premier soccer field located within the shale running track (north-west corner of the park). 
The City of Edmonton has directed the Prime Contractor and the Consultant to prepare a plan for investigating the grade depression and its cause. The City has also engaged a third-party engineering firm to assist in determining the cause of the issue and to provide input as required. 
Impacts to the Project
The south side of the park will be completed this construction season. This includes the 4 south sports fields (2 premier irrigated combo fields and 2 soccer fields), the courts (8 pickleball, four basketball, and 6 tennis) and the asphalt pathways which are surrounding these areas.

The soccer fields and the premier irrigated combo field located next to Harry Ainlay School are available for use and will continue to be throughout the summer and fall.
The only exception is that the premier irrigated combo field will be closed from June 17 - July 3 to start-up and test the new irrigation infrastructure.

The premier irrigated combo field (located between the courts and the 2 soccer fields) and the new courts are anticipated to be completed by the end of July.
The courts will be accessible from the south side of the park only. Court access from the north will not be possible while the cause of the grade failure is under investigation and  construction is completed
The north side of the park will be closed for an indeterminate length of time. This includes the 2 north sports fields (football/premier soccer field and the soccer field: 73 x 55), the remaining asphalt pathways, and the new running track and jump pit. 

The projected duration of the closure for this area and all amenities will depend on the length of time required to investigate and repair the defect. As part of our investigation we are expecting some exploratory excavation in the area of the failure. 
Until the investigation is complete, no additional construction will occur in this area. As a result, timing for completion of the north side of the park is currently unknown.  
Similar to previous years, we will not be closing off the entire site and only fencing areas where active construction is occurring. 
We will provide ongoing updates on construction progress. Thank you for your patience during this construction season.