For the safety of your child and all passengers on board, please be especially careful when entering or exiting an ETS vehicle with a stroller. Bumps and collisions can be a hazard to everyone involved. Please keep the following tips in mind for a safe and comfortable ride for you, your child, and other transit customers.
Before you go
Stroller size
It is very important to use a stroller that can be easily accommodated on transit buses and trains. Some large recreational or tandem strollers simply do not fit on board. You may not be able to ride, or you may experience difficulty manoeuvring the stroller every time you use the bus.
Choose a stroller that can be accommodated on transit. Strollers should be a maximum 20 inches wide by 48 inches long (51 cm wide and 122 cm long).
Travel light
Parcels in addition to baby needs can make for a heavy stroller. Travel light by taking only what you need!
Travel when least crowded
ETS buses and trains are used most heavily during peak traffic hours and are least crowded mid-mornings, mid-afternoons, evenings and weekends. To avoid crowded conditions, try to travel during off peaks times whenever possible.
On ETS
Assistance from ETS operators or other customers
If you require assistance to board or exit an ETS vehicle, please ask the operator. If the operator cannot assist due to injury, please understand. Another passenger may be able to help.
Please be courteous when requesting assistance from ETS operators or other customers.
Priority Seating
You may use the priority seating area immediately at the front of the bus, but please remember that this area of the bus is also there for use by the elderly, persons using walkers, wheelchairs, scooters, or other mobility aids, the visually impaired and other customers with children in strollers. Please accommodate people with mobility challenges whenever possible.
Seats in the front priority seating 'flip-up' to make room for persons using mobility equipment or strollers, to keep the aisles clear for other passengers. Please use this feature to create room for yourself and stroller, and to clear the aisle so that others may board and move further onto the bus.
On LRT, use the train car with wheelchair access (where seats face one another) as there is more room for a stroller.
Please remember that persons with least mobility get first priority on our buses and trains.
Safety First!
Your child must be secured with the safety belt provided in your stroller.
Please put the brakes on and ensure that the stroller is placed as far away from the aisle as possible once you are settled.
ON LRT: Always put the brakes on stroller wheels while waiting on LRT platforms to prevent strollers rolling away toward track areas.  On board LRT, please also ensure the stroller wheels have brake applied once you have settled into your spot.
Hold on to the stroller securely at all times during your trip.
Strollers should either face forward or toward you, but not cross-wise and jutting into the aisle as this poses a tripping hazard for other customers moving onto the transit vehicle.
Please note, in very crowded conditions, the operator may ask you to fold the stroller and hold your child in order to make room for other passengers.
Boarding and exiting
ETS low-floor buses have no steps and are able to "kneel", making it easier to board and exit the bus. Ramps are also available to make boarding and disembarking easier.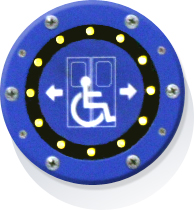 On the train, you can use the ramp to make it easier to board and exit with a stroller. The ramp is activated with the blue button with the wheelchair symbol.